The purchase of a motorcycle is an exciting experience, but one that can be complex. Between choosing the bike, the equipment, and the plates, it can get overwhelming! At Motoplex, we know a great deal about motorcycles. That's why we've decided to publish our Ultimate Motorcycle Purchasing Guide!
Here is everything you need to know about motorcycles, from buying them to storing them for the winter.
Here are the topics we will be covering:
ABOUT THE MOTORCYCLIST
The purchase of a motorcycle is an undertaking that requires a great deal of self-knowledge. If you arrive at the store without knowing exactly what you are looking for, you can expect to be asked a number of questions. This is normal! In order to be able to advise the customer on a particular motorcycle, the sales representative must know the individual well.
Don't be concerned if you feel like you're being interrogated in a motorcycle dealership; the advisor is doing his job and trying to provide you with an informed recommendation!
The Experience
The first question the salesperson will ask you is the following: how long have you been riding motorcycles?
The reason is simple: larger displacement models are more difficult to operate. The more powerful the bike, the harder the acceleration and the more challenging the turns.
If you don't have any motorcycle riding experience, the advisor will probably ask you if you've ever ridden an ATV, a side-by-side or a motocross bike. The riding experience on all of these vehicles is different, but similar enough to make the skills you've acquired useful when you switch to a motorcycle.
The displacement of a motorcycle is calculated in cubic centimeters (cc). Without going into detail about the workings of an engine, it is wise to remember that the higher the number of ccs, the higher the displacement and the more efficient the engine.
The most powerful motorcycles exceed 1000 cc. For a beginner, it is recommended to start with something smaller, such as a 350 cc engine.
Once you are comfortable with this small displacement, you can consider a more powerful bike. Progression comes with experience. Generally, improvement can be noticed after a few months.
You may be thinking that you don't wish to purchase a bike only to have to upgrade a few months later, and that's understandable. But you can get a small used bike for the time it takes to get comfortable, and for a relatively low price. You can then trade it in for a more powerful model. Note that motorcycles generally hold a good resale value.
The Use of a Motorcycle
There are many ways to ride a motorcycle, and it's important to choose your vehicle according to the use you intend to make of it.
But the bike you choose will also influence the way you use it.
For example, if I buy a more powerful bike, I might be more likely to ride faster and accelerate further. If I opt for a less powerful bike, I'm most likely to ride leisurely.
A basic question arises: are you looking for comfort or performance?
We wouldn't go so far as to say that it's impossible to have both, but a bike built with comfort as a priority will be more accommodating than a bike that prioritizes performance (and vice versa).
We'll cover which type of motorcycle is more appropriate for which purpose in more detail later in this article. To get started, here are some questions you can start pondering:
Why do I want a motorcycle?
Do I prioritize comfort or performance?
Will I be going on long distance rides?
Will I be accompanied?
Do I plan to go off-road?
The Motorcyclist's Physical Features
The size and weight can vary a lot from one bike to another. Some are very heavy, while others are much lighter. Some have a high seating position, whereas others are lower, closer to the road and are built with a lower center of gravity.
If you choose a heavier model, you must have the strength to control it, not while you're driving, but when you're stopped and getting on it, which is more challenging. Custom models, like the Kawasaki Vulcan, and Touring Cruisers like the Vulcan Voyager, are among the heaviest. On the other hand, there are sport models like the Suzuki GSX or small-displacement motorcycles like the Kawasaki Z400.
The rider must be able to touch the ground with his feet while on the bike, which makes the seat height a factor to consider.
Ultimately, the key is to find a motorcycle model that you are comfortable on. It often comes down to the way the rider feels when getting on the bike. After trying a few, the choice is usually quite obvious: among many, one will stand out as a favorite.
The Budget
As with their size, the price of motorcycles varies greatly.
A new, small-displacement motorcycle can be purchased for 3,000$ to 4,000$. The most powerful and well-equipped models sell for over 30,000$. For an "average" new motorcycle, a rider can expect to spend around 6000$ to 9000$.
The depreciation of a motorcycle is significantly lower than for a car. We've all heard that "a new car loses 20% of its value as soon as it leaves the dealership". This is also true in the world of motorcycles, but 20% of a purchase of less than 10,000$ represents a much lower depreciation than that of a car whose prices quickly rise to 30,000$ to 40,000$.
In the end, someone who spends 9,000$ on a motorcycle and sells it for 5,000$ a few years later is not at a great loss.
The total cost of the bike, however, includes more than just the purchase of the bike. Let's explore these factors in more detail.
The most obvious piece of equipment is of course the helmet.
A new motorcycle helmet usually retails between 75$ and 1000$. Why such a wide range? Because motorcycle helmets vary greatly in quality, style and features. Some are connected with Bluetooth, better ventilated, more comfortable and so on.
The helmet protects the head of the biker, so we recommend taking a quality helmet and avoid those of questionable value.
It is also recommended to wear protective gloves. The price of motorcycle gloves can vary between 20$ and 200$.
The motorcycle jacket (between 150$ and 2000$ for the one-piece) is another item of safety equipment that comes highly recommended. The cheapest coats sell for around 150$, and the price goes up depending on their quality and style. Some jackets also include pants, making the coat a one-piece suit.
Those opting for a visorless helmet will need to add goggles to their shopping list.
The bike is sold with all the equipment that makes it road legal, so it is theoretically not "to be equipped". However, many accessories can be added. We will come back to them later in this article.
Like any other vehicle, the motorcycle must be registered with the SAAQ. The motorcycle registration must be renewed annually.
The cost of registering a motorcycle varies according to its engine size. The registration of a more powerful motorcycle will cost more.
For the less powerful models, the registration can cost around 400$. For a "standard" sport-touring model of 600 cc or more, registration will run around 575$. For sport and super sport models, it can go up to 1500$ to 1600$.
Insurance is one of the lowest expenses. This may vary depending on the rider's record, but insuring a motorcycle worth 10,000$ to 12,000$ generally costs between 200$ and 400$ a year.
It can be wise to obtain insurance from an insurer with whom you already do business, to benefit from lower rates.
The motorcycle license must be renewed every year. The cost also varies depending on the rider's record. Fortunately, it is a minor expense of about 50$ per year.
The urban biker who does not have the space to store his motorcycle at home will have to find a place to keep it during the winter months
A motorcycle doesn't take up much space, so it can be stored in a 5′ x 10′ storage unit, which is usually not very costly.
We'll come back to the storage process later in this article.
Although electric motorcycles do exist (we'll return to this point), the majority are gasoline-powered. The good news is that a motorcycle consumes much less fuel than a car. This is mainly due to its weight: an average motorcycle weighs about 400 lbs, while the average car can be as heavy as 3000 lbs.
Motorcycle engines can generally hold about 20 liters of gasoline and travel 150 km on a single tank of gas. These figures should be taken with a grain of salt, as fuel consumption can vary significantly depending on the rider's driving style and the price of gasoline.
The purchase of a motorcycle can be financed, as can any purchase worth several thousand dollars. However, there are several options available to you and the right choice can result in significant savings.
The financing process is the same as in the automobile business. Financing is provided by a bank and can be resold by the dealership where the bike is purchased. It can also be negotiated between the buyer and his bank before the final purchase of the vehicle.
In most cases, it is more beneficial to finance your motorcycle through a specially negotiated loan (car loan) than with a personal loan. The financing rates for a car loan (open loan with decreasing interest) tend to be lower than those for a personal loan.
The important thing is to carefully weigh your options. Contrary to popular belief, the loan you get from the dealership may be better than the one offered by your bank, so don't hesitate to research!
ABOUT THE MOTORCYCLE
As mentioned earlier, the types of motorcycles on the market are diverse and varied. Every rider will find a suitable bike.
In this chapter, we will explore the different types of motorcycles and the rider they are designed for, look at the different brands available and how they differ, and evaluate the pros and cons of a used versus a new motorcycle.
The Types of Motorcycles
Among the " road bikes " – meaning legal for use on Quebec roads – there are several types of motorcycles:
Adventure
Custom
Sport et sport touring
Café Racer
Cruiser
Touring Cruiser
These types of motorcycles do not remind you of anything? No problem! We'll explore them all one by one.
But remember, choosing a bike is a matter of feeling – you find out what suits you best by trying them out.
Adventure Type Motorcycle
An adventure bike, for example the Kawasaki Versys or the Suzuki V-Strom, is a rather high ground bike.
While not recommended for regular riding, an adventure type bike would be able to withstand gravel roads and could allow for an occasional ride through the woods.
This type of bike is known to be quite comfortable, and fairly powerful.
This kind of motorcycle is recommended for someone who plans to go on long rides and might occasionally find themselves off the beaten path.
Custom Type Motorcycle
A custom bike like the Kawasaki Vulcan tends to have a lower center of gravity than a sport tourer or adventure bike. These motorcycles have a tendency to be heavier than other types of motorcycles.
This type of motorcycle is not recommended for off-roading. Unlike an adventure, its low center of gravity would prevent it from going off-road. The best use of this motorcycle is for touring, on the main road.
Sport Touring Type Motorcycle
A sport touring motorcycle is an imitation of a sport or super sport bike. The most famous models are the Kawasaki Ninja or Kawasaki Z400, and the Suzuki Katana.
This type of motorcycle may have as much power as a sport bike, but it differs in that it leans less, which also makes it more comfortable.
This distinction between sport touring motorcycles and sports motorcycles makes all the difference when it comes to paying for motorcycle registration – sport touring plates are much more affordable.
Some sport bikes (sport touring, sport and super sport) can be equipped with fairings – plastic strips on the side that "close" the bike. Fairings improve the aerodynamics of the bike, allowing wind to pass over and under the rider. Facing less wind resistance, the rider will be more comfortable on the bike. The Kawasaki Ninja is one of the most popular motorcycle models with fairings – notice the fairings around the engine:
Bikes without fairings are called "naked bikes"; the Suzuki SV650 is a good example. Notice that the engine is "exposed":
Sport and Super Sport Motorcycles
The difference between a sport and a super sport motorcycle is a question of accuracy: every super sport motorcycle is a sport motorcycle, but not every sport motorcycle is a super sport.
As mentioned above, a sport bike differs from a sport touring motorcycle by the position of the rider: he or she is leaning more on a sport bike than on a sport touring motorcycle.
A super sport motorcycle is essentially a racing motorcycle with some modifications to make it road legal. It is one of the most powerful and expensive types of motorcycles, especially for registration purposes.
A super sport bike is only recommended for very experienced riders, as they are not easy to handle due to their power.
Café Racer Type Motorcycle
A café racer, for example the Royal Enfield Continental GT or the Kawasaki W800 Cafe, is a type of bike known for its retro look.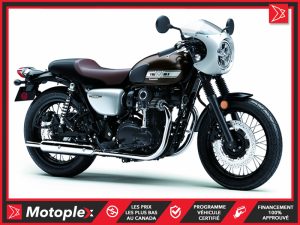 While these bikes are not the most versatile, powerful or comfortable, they offer a unique riding experience and have a dedicated enthusiast base.
These bikes are often used as a second motorcycle for those who like the appearance and have room to store more than one.
Touring Cruiser Motorcycle Type
A touring cruiser, such as the Kawasaki Vulcan Voyager, is a motorcycle designed to be driven for long distances. It is therefore equipped with a number of options aimed at improving passenger comfort, such as the following:
Cruise control;
Sound system;
Luggage compartment.
Riding a touring cruiser can be compared to sitting on a mobile sofa. The rider can expect less wind on this type of motorcycle because of its size. This also makes it possible to have a second passenger easily and comfortably.
These motorcycles tend to be among the most expensive because of all the features they offer. They are also extremely heavy and feature a large displacement.
Motocross
A motocross is a motorcycle made for off-road motor sports. Its suspension and wheels are different from those of a typical motorcycle.
Motocross bikes in general are not street legal; however, there are some street legal motocross bikes, such as the Kawasaki KLX. These models have been altered slightly to be suitable for road use.
In the Suzuki RM range, however, only the RM-X model is road legal.
Three-wheel Motorcycle
The biker who doesn't wish to obtain a motorcycle license can rejoice: by taking a one-day course, he or she can get a three-wheel motorcycle such as the Slingshot from Polaris or the Spyder from BRP.
The stability and ease of use of a 3-wheel motorcycle often attracts enthusiasts. Unlike a traditional motorcycle, you don't have to prop it up when standing still.
This type of motorcycle is usually more expensive than a standard one, but it can provide more comfort and easily accommodate two people.
Using a Motorcycle
As mentioned earlier in this article, the use of a motorcycle affects and is influenced by the type you choose.
If I think I'm going to be riding often with others, I might choose a motorcycle that can accomodate two people. Having a comfortable bike, I am more likely to invite friends to ride with me.
Selecting the right bike is often a matter of "affording your ambitions":
Planning on taking long rides? Choose a motorcycle that you can sit on comfortably for several hours.
If you're looking for performance, be sure the bike has enough power to provide the " feeling " you're looking for.
Will you be accompanied often? Choose a two-seater model.
You might find yourself off the beaten paths? Get a model with a higher seat.
There are bikes for every purpose. Therefore, choosing the right one is not difficult. You only must keep in mind what's important to you and choose accordingly.
If the bike you have selected does not have all the features you desire, you can sometimes improve it with accessories. A change of seat or adding a windshield can make a sport bike significantly more comfortable, for example.
New Motorcycle vs. Used Motorcycle
A well-maintained motorcycle can be used for years, just like any other vehicle. If this is the case, there are no real disadvantages to choosing a used motorcycle.
For a novice rider, a new motorcycle may be a safer purchase, since a newer vehicle is generally in better condition than a used one.
The potential buyer of a used motorcycle should be aware that there are some repairs that need to be done after a few years of use, which become urgent when the motorcycle has already had some wear and tear.
Someone who is mechanically proficient and price conscious may decide to buy a used motorcycle and do the repairs on their own.
As mentioned earlier, the depreciation of a motorcycle is less than in a car. Because the price difference is smaller, many buyers attracted by the low prices offered in used inventory end up opting for a new one – new bikes often offer customization options that are not available in used models.
The Motorcycle Brands
There are many brands of motorcycles, and most of them are equal. Despite the Suzuki fans, it would be wrong to say that Kawasakis are not good bikes, for example.
The Japanese Big 4
The Japanese Big Four is composed of the major Japanese manufacturers Kawasaki, Suzuki, Honda et Yamaha. These companies have a vast catalog of motorcycles of each type.
These bikes often display a bold look that appeals to motorcycle enthusiasts. They tend to be cutting edge, especially with the integration of gadgets like a touch screen.
Having sold millions of motorcycles worldwide since the 1950s, these manufacturers are known to be reliable – it's hard to make a "bad" choice when opting for one of these brands. In the end, it's a matter of choosing the model that suits you best.
Since these four manufacturers are equivalent, it is often the special offers that lead buyers to opt for one brand over another. The incentives to buy can be more or less interesting, and these are not to be neglected when purchasing a motorcycle.
Harley Davidson
Harley Davidson is a unique player in the world of motorcycles: with its iconic look and presence in popular culture, the brand has fans all over the world.
It is therefore not surprising that it is the motorcycle brand with the largest cult following of all. People particularly appreciate the look, sound and vibration produced by the bike, as well as the customization possibilities offered by the brand.
Buying a Harley is the dream of many motorcyclists. But there are numerous custom motorcycles out there that can totally match a Harley!
Harleys are good bikes, but they are not "better" than those of other manufacturers. They are also often slightly more expensive than the competition.
But a motorcycle is an emotional purchase, so even if we don't sell Harleys at Motoplex, we understand the enthusiasts!
The Brands That are Worth Knowing
Among the less popular brands that deserve to be known, we must mention our personal favorite: Royal Enfield. With its three distinct models that offer a unique riding experience and retro look, the brand continues to win the hearts of many motorcyclists!
We also tip our hat to Zero Motorcycles which, with its catalog of 100% electric motorcycles, is creating today the motorcycles of tomorrow!
EQUIPPING A MOTORCYCLE
A road legal motorcycle is sold with all the necessary accessories and equipment to make it roadworthy. That being said, there are many customization options available.
Comfort Accessories
Comfort on a motorcycle depends mainly on two factors:
Your sitting position on the motorcycle;
The wind resistance provided.
The seat of the motorcycle can be replaced by a more comfortable one: harder or softer, narrower or wider, according to the rider's preference.
Also, the wind resistance can be decreased by some accessories protecting the rider: windshield, aerodynamic accessories, and gloves.
Style Accessories
In addition to choosing a motorcycle of a color and look that we enjoy, it is possible to add accessories that will make it look better in our eyes.
First, the biker can choose a helmet, gloves and a matching jacket to give himself a better look. He or she can add shoes or boots to the kit. In addition to style, these accessories protect the biker in case of a fall.
The motorcycle can be enhanced with a gas tank protector and tights on the mags. Pedals, exhaust pipes (commonly called "pipes"), levers, mirrors and turn signals can be changed for more aesthetic designs.
Some modifications to the sound of the bike or the rear fender are not legal, so we won't mention them here.
Maintenance Accessories
Motorcycle maintenance can be done at a dealership or in a garage, which may be the quicker option. Mechanics at dealerships are trained by the manufacturer, which makes them able to repair the vehicle more efficiently. The hourly rate will be more expensive, but sometimes the time saved is worth the extra investment.
However, there remain many riders who maintain their motorcycles themselves.
The motorcycle chain should be routinely lubricated. Tire pressure should also be checked. If one decides to do his or her own oil changes, one must have the right grade of oil and the appropriate oil filters.
The suspension of the motorcycle should be inspected from time to time.
A finished tread should be changed promptly.
Finally, before taking to the road, one should always make sure that the turn signal is working properly during the walk around.
MAINTAINING A MOTORCYCLE
A well-maintained motorcycle will remain in good condition and retain its resale value. A poorly maintained motorcycle can be dangerous to the rider. Let's take a look at some of the procedures you can follow to make sure you take good care of your motorcycle.
If you need service for your motorcycle, don't hesitate to contact us or schedule an appointment at our service department.
The Oil Change
It is recommended that a motorcycle's oil be changed every 5000 km. As with a car, the process for changing the oil is fairly simple. However, it is recommended that you have at least the first oil change on a new motorcycle done at the dealership.
The first few miles are a good way to make sure everything in the motorcycle is in place. By having your first oil change at the dealership, the mechanic will be able to make sure that everything is working properly on the new bike.
If you decide to do your own oil change, make sure you have the right filters and use the right grade of oil. Since the choice of oil has a big impact on the bike, it is always recommended to ask a professional for help in choosing an oil (and not just buy any bottle at Canadian Tire!)
The Brakes
The more you use your motorcycle, the faster the brakes will wear out. This type of maintenance is not to be neglected, since brakes in poor condition can put the motorcyclist in danger. Changing brakes is simple enough for someone who knows how to do it, but given the importance of this part of the vehicle, it is recommended to hire a professional!
Do I Have to Wash my Motorcycle?
The short answer is no. Unless you're using it in an exceptional way, like on a muddy road, where dirt could have gotten into the engine, washing the bike is strictly a matter of appearance.
STORING A MOTORCYCLE
Quebec law requires winter tires to be worn from December 1st to March 15th, which means that all motorcyclists must think about storing their motorcycles in winter.
Can I Leave my Motorcycle Outside in the Winter?
Yes, it can be done. The ideal is to store your motorcycle in a heated garage that will protect it from the elements. If this is not possible, however, the outdoors may be acceptable as long as the bike is protected from the snow.
If you decide to leave the bike outside during the winter, make sure you put stabilizer in the gasoline to prevent it from freezing. To avoid a dead battery once spring arrives, be sure to connect the motorcycle's battery to a smart charger, ideally in a heated room.
Where Can I Store My Motorcycle?
A garage (heated or not) will do the job nicely. A small trailer, which can be used to transport the motorcycle, can also double as a storage space for the winter.
There are several options if you don't have the space to leave your bike at home. Some motorcycle dealerships offer a storage service.
If not, it is possible to rent a mini storage room. A motorcycle doesn't take up much space, so a standard 5′ x 10′ storage unit would be more than sufficient.
CONCLUSION
As we've seen, there are many things to consider when purchasing a bike. We hope this article has helped you on your motorcycle journey.
We probably didn't cover everything, so if you have any questions, please do not hesitate to contact us. The experts at Motoplex are always pleased to talk motorcycle with other enthusiasts!
And if you're looking for your next motorcycle, we have a large inventory of new and used vehicles for sale for you to browse!